News
18.02.20
New publication: "Non-linear Raman scattering intensities in graphene ", by Veit Giegold, Lucas Lange, Richard Ciesielski and Achim Hartschuh
More information ...
30.07.19
New publication: "Controling photon antibunching from 1D emitters using optical antennas", Lucas Lange, Frank Schäfer, Alexander Biewald, Richard Ciesielski and Achim Hartschuh
More information ...
23.07.19
New Publication: "Uniaxial transition dipole moments in semiconductor quantum rings caused by broken rotational symmetry", Nicolai F. Hartmann, Matthew Otten, Igor Fedin, Dmitri Talapin, Moritz Cygorek, Pawel Hawrylak, Marek Korkusinski, Stephen Gray, Achim Hartschuh and Xuedan Ma
More information ...
23.05.19
New publication: "Temperature dependent ambipolar charge carrier mobility in large crystal hybrid halide perovskite thin films", Alexander Biewald, Nadja Giesbrecht, Thomas Bein, Pablo Docampo, Achin Hartschuh and Richard Ciesielski
More information ...
Address
Ludwig-Maximilians-
Universitaet Muenchen
Department Chemie
Butenandtstr. 5-11 (Haus E, Gerhard-Ertl-Gebaeude)
81377 Muenchen
Phone: +49 89 2180 77515
Mail:
Prof. A. Hartschuh
More information...
Time-resolved spectroscopy
Optical excitation of Single-Walled Carbon Nanotubes generates excitons. Exciton decay dynamics are of major importance both for our understanding of the fundamental physics and for all light-based device applications of these 1D quantum systems.
To avoid the major disadvantages of ensemble measurements, namely overlapping contributions from different tube species and averaging over tubes of the same species but with different individual properties (e.g. defect concentration), single nanotube experiments are required.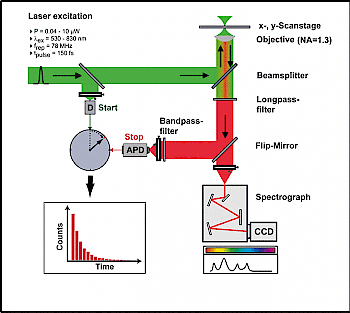 Setup for time-resolved photoluminescence spectroscopy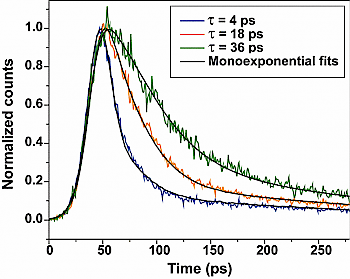 Time-dependent photoluminescence intensity for three different
nanotubes showing the decay dynamics of the excited state. The
corresponding lifetimes are derived from fitting with a mono-exponential
decay function.
---