News
11.12.18
New Publication: "Efficient Hotspot Switching in Plasmonic Nanoantennas using Phase-shaped Laser Pulses controlled by Neural Networks", Alberto Comin and Achim Hartschuh,
More information ...
05.05.18
New publication: "Remote excitation and detection of surface-enhanced Raman scattering from Graphene", Nicolas Coca-Lopez, Nicolai Hartmann, Tobia Mancabelli, Jürgen Kraus, Sebastian Günther, Alberto Comin and Achin Hartschuh
More information ...
23.02.18
New publication: "Grain Boundaries Act as Solid Walls for Charge Carrier Diffusion in Large Crystal MAPI Thin Films", by Richard Ciesielski, Frank Schäfer, Nicolai F. Hartmann, Nadja Giesbrecht, Thomas Bein, Pablo Docampo and Achim Hartschuh
More information ...
22.01.18
New publication: "Understanding the Role of Cesium and Rubidium Additives in Perovskite Solar Cells: Trap States, Charge Transport, and Recombination", Yinghong Hu, Eline M. Hutter, Philipp Rieder, Irene Grill, Jonas Hanisch, Meltem F. Aygüler, Alexander G. Hufnagel, Matthias Handloser, Thomas Bein, Achim Hartschuh, Kristofer Tvingstedt, Vladimir Dyakonov, Andreas Baumann, Tom J. Savenije, Michiel L. Petrus, and Pablo Docampo
More information ...
Address
Ludwig-Maximilians-
Universitaet Muenchen
Department Chemie
Butenandtstr. 5-11 (Haus E, Gerhard-Ertl-Gebaeude)
81377 Muenchen
Phone: +49 89 2180 77515
Mail:
Prof. A. Hartschuh
More information...
Welcome to Prof. Hartschuh's Research Group
Department of Chemistry and Center for Nanoscience (CeNS)
Our group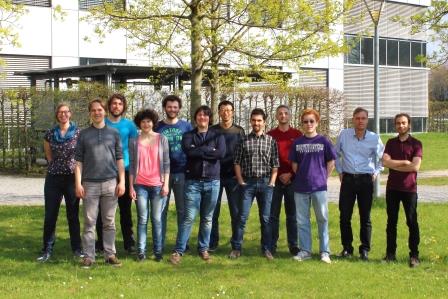 Last update: 04.10.2018
---