News
23.05.19
New publication: "Temperature dependent ambipolar charge carrier mobility in large crystal hybrid halide perovskite thin films", Alexander Biewald, Nadja Giesbrecht, Thomas Bein, Pablo Docampo, Achin Hartschuh and Richard Ciesielski
More information ...
07.03.19
New publication: "Tip-Enhanced Spectroscopy and Imaging of Carbon Nanomaterials", by Ado Jorio, Luiz Gustavo Cançado, Sebastian Heeg, Lukas Novotny and Achim Hartschuh (Dedicated to the Memory of Professor Mildred S Dresselhaus)
More information ...
04.03.19
New publication: "Freely Suspended, van der Waals Bound Organic Nanometer‐Thin Functional Films: Mechanical and Electronic Characterization", Lilian S. Schaffroth, Jakob Lenz, Veit Giegold, Maximilian Kögl, Achim Hartschuh and R. Thomas Weitz
More information ...
11.12.18
New Publication: "Efficient Hotspot Switching in Plasmonic Nanoantennas using Phase-shaped Laser Pulses controlled by Neural Networks", Alberto Comin and Achim Hartschuh,
More information ...
Address
Ludwig-Maximilians-
Universitaet Muenchen
Department Chemie
Butenandtstr. 5-11 (Haus E, Gerhard-Ertl-Gebaeude)
81377 Muenchen
Phone: +49 89 2180 77515
Mail:
Prof. A. Hartschuh
More information...
CdSe nanowires
Inorganic semiconducting nanowires are promising candidates as building blocks in nanoscale optoelectronics, photovoltaics, and sensing devices owing to their unique physical properties. In thin cadmium selenide (CdSe) nanowires (NWs), diameter-dependent quantum confinement controls the electronic band gap energy, a key parameter in potential applications. In addition, the band gap energy is known to depend on the crystal phase, since wurtzite and zinc-blende phase are stable in the nanowires. Nanoscale phase variations with alternating wurtzite and zinc-blende segments along the nanowires have been suggested as the origin of the large spectral width of the observed photoluminescence bands. The extension of TENOM as a standard technique also for inorganic nanowires would lead to a further progress in the investigation and understanding of their optical properties on nanometer length scales.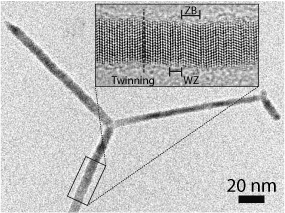 TEM image of a branched CdSe NW. Inset: HRTEM image showing crystal phase variations.
---